15 DIY Fun and Creative Craft Projects For The Summer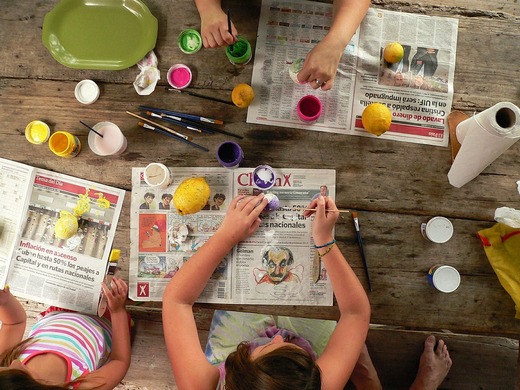 Spring and summer are the perfect times to put on your creative hats on and get down to business. With warm skies, sunny days, and blossoming flowers, inspiration and motivation come easy. And it's a great time to give your home a makeover, because summer means fun. The great thing too is that you don't have to spend too much money to do that, you can just make them!
Here are 15 fun tutorials for DIY craft projects to brighten up your home this summer.
1. Burlap Button Flag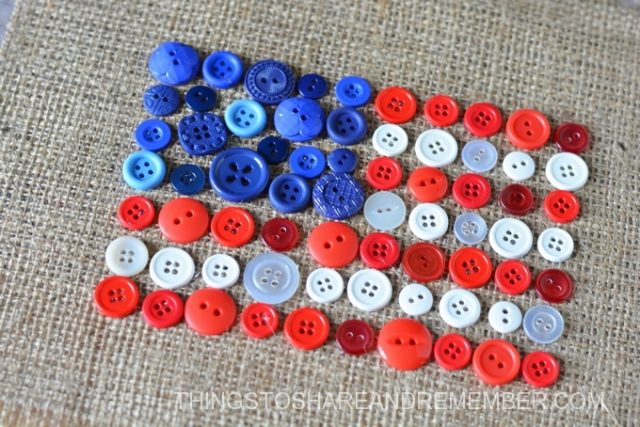 Tutorial: www.thingstoshareandremember.com
Make this burlap button flag to decorate your 4th of July party. And it's so easy to make, because it require very few supplies, time, and effort! You can hang it in your home once the party's over too.
2. Ice Cream Cone Garlands
Tutorial: growingupgabel.com
What's one thing you think about when you think of summer? Ice cream! Make this fun ice cream come garland using some paper and yarn to hang in your kid's nursery, or in their play room. Or if you're feeling quirky, you can hang it in the kitchen too. It looks adorable and is super simple to make.
3. Sea Glass Bottles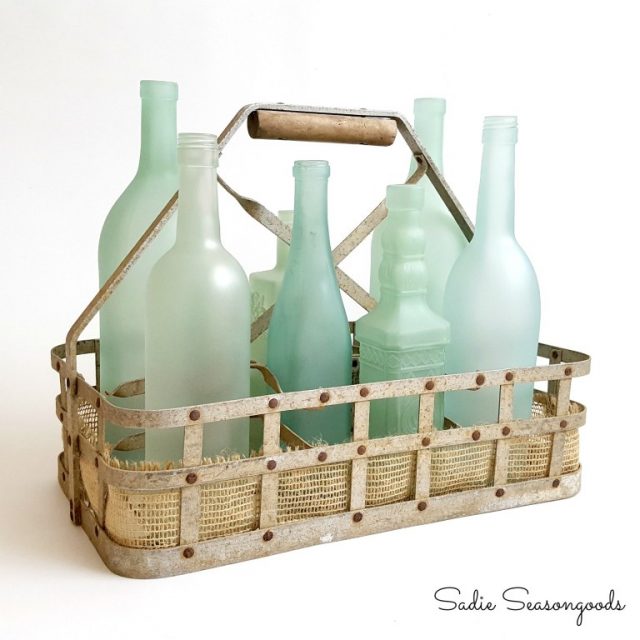 Tutorial: www.sadieseasongoods.com
Create this rustic centerpiece for your dinner table or display it on your kitchen counter tops, either way, these cool sea glass bottles give off a breezy, beachy vibe. All you need are a few transparent bottles and spray paint to transform them into artsy sea glass bottles.
4. Flip Flop Wreaths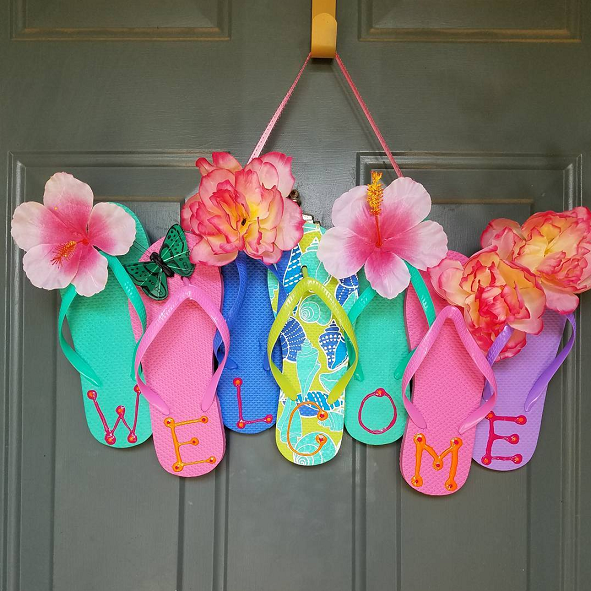 Tutorial: www.craftymorning.com
Flip flops are another thing that's synonymous to summer. And they come in various different, colors, sizes and cool patterns. This flip flop wreath is great for a summer party or even to display on your front door. Mix, match, and write whatever you want on them; it's up to you!
5. Sea Shell Planters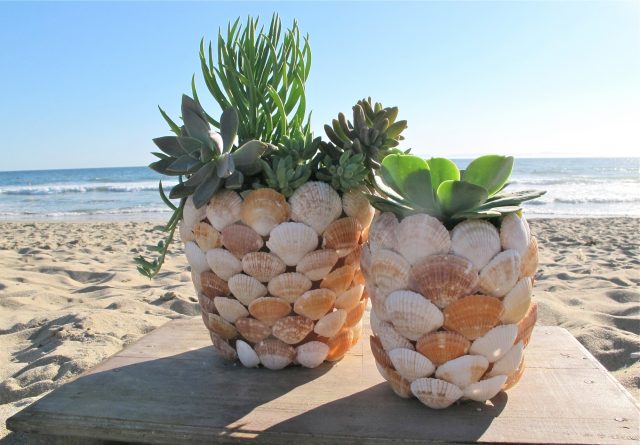 Tutorial: us.billabong.com
Collecting seashells is a popular summer time hobby among kids, so recruit them to gather the supplies for this cool summer project. You can then use them to make unique planters to grow little plants in. Use a terracotta pot as the base, and with a bit of glue and a lot of shells, you'll have this beauty!
6. Yard Dice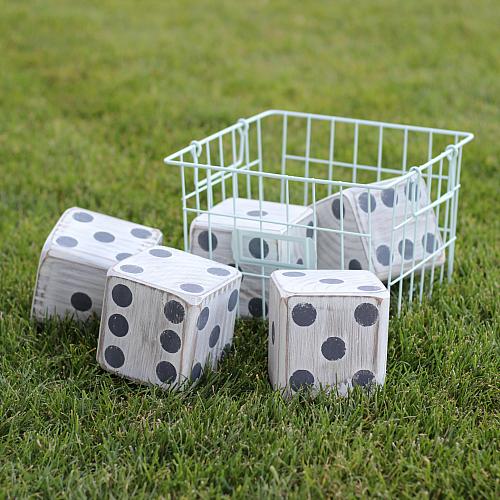 Tutorial: decoart.com
These whimsical looking dice are a great way to introduce some fun into family gatherings, picnics, and parties. Find ways to utilize them in whatever games you have planned, and watch everyone get a kick out of them!
7. Pineapple String Lights
Tutorial: www.drawntodiy.com
Another great décor idea for a summer party is these pineapple string lights. These cute lights are super easy to make, and they are different enough that they'll get the attention of your guests. Just paint a bunch of string balls yellow, glue some green felt leaves on top, and string 'em up!
8. Bohemian No-Sew Pillows
Tutorial: monsterscircus.com
This is such a cool and unique concept that will definitely impress your guests. The Bohemian vibe they give will make your home feel more chic and relaxed. And what's more, it's super easy to make because all you need are two soft, trendy rugs and glue!
9. Lemon Candles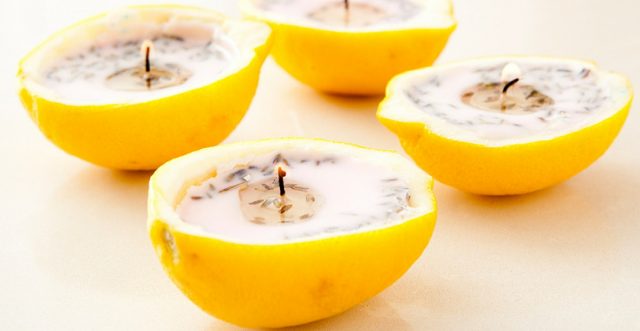 Tutorial: rare.us
When life gives you lemons, you make… lemon candles! Make your own natural scented candle by using hollowed out lemon skins. Pour melted beeswax in the middle and you have your own homemade all-natural scented candle. Use them within a day or two for best results.
10. Ocean View Shadow Box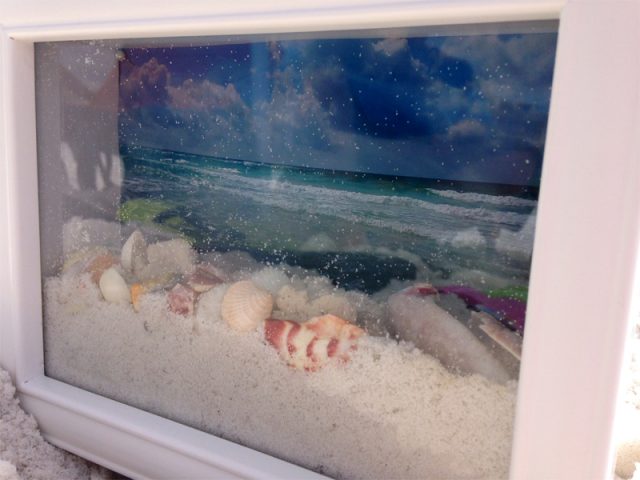 Tutorial: www.thesoutherncouture.com
Keep your summer memories forever alive by creating these ocean view shadow boxes. Get a few of your photos and head to the beach to collect some seashells and sand. Shadow boxes are great to display vacation photos in your home as well.
11. Seashore Wind Chimes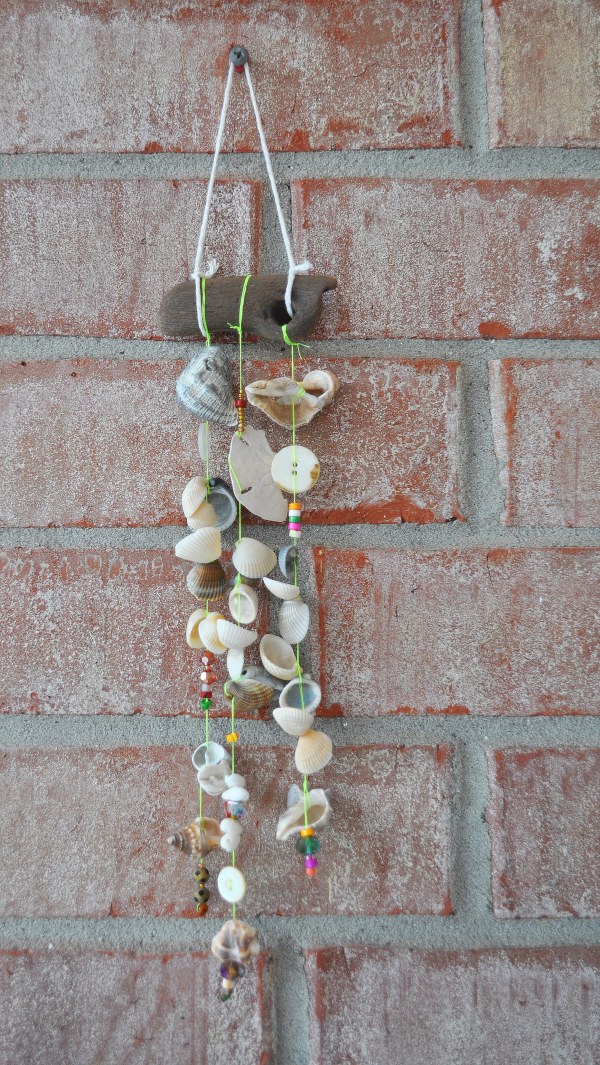 Tutorial: poindextr.wordpress.com
Wind chimes look amazing when hung at home and they are said to gather positive vibes, so this is the ideal summer project. Apart from being super easy to make, it is also pretty versatile. You don't have to confine your wind chime to seashells; you can add buttons, feathers, beads, and whatever else your heart desires!
12. Beaded Sunburst Mirror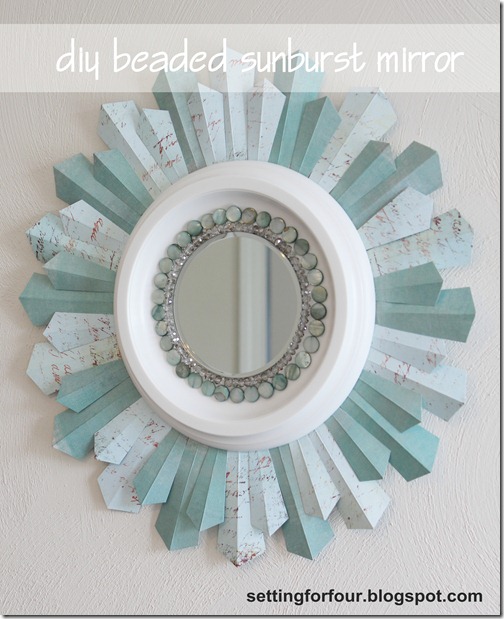 Tutorial: www.settingforfour.com
Make your home look beachy and summery by displaying his beaded sunburst mirror on your walls. This gorgeous décor item that you can make with just a few supplies will look like something from a fancy furniture store. You can customize it to different colors by using different colored papers, or you can even use patterned paper.
13. Painting a 15-Minute Ocean Scene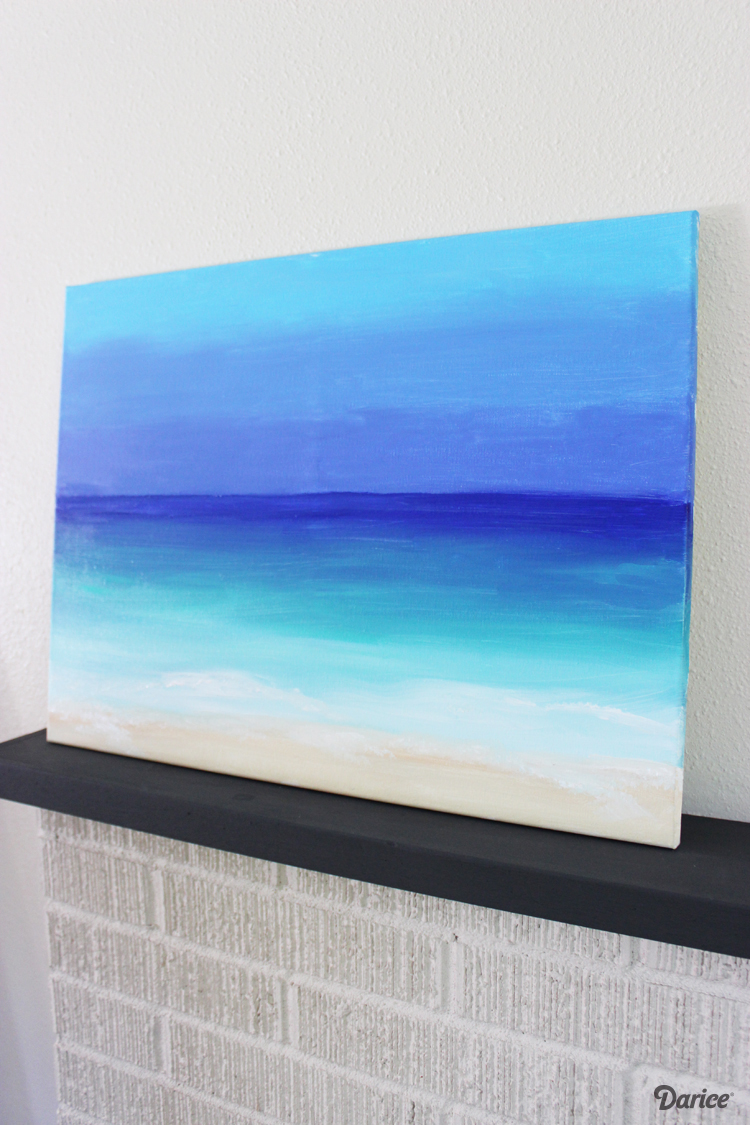 Tutorial: blog.darice.com
Create this cool painting for a calming effect when displayed on your walls. And the best part? It only takes 15 minutes! You'll need only a blank canvas and a couple shades of blue paint to make this masterpiece. You can also add a little splash of yellow or red to depict the sun and beach, but it doesn't really need it, to be honest.
14. DIY Mason Jar Mini Aquarium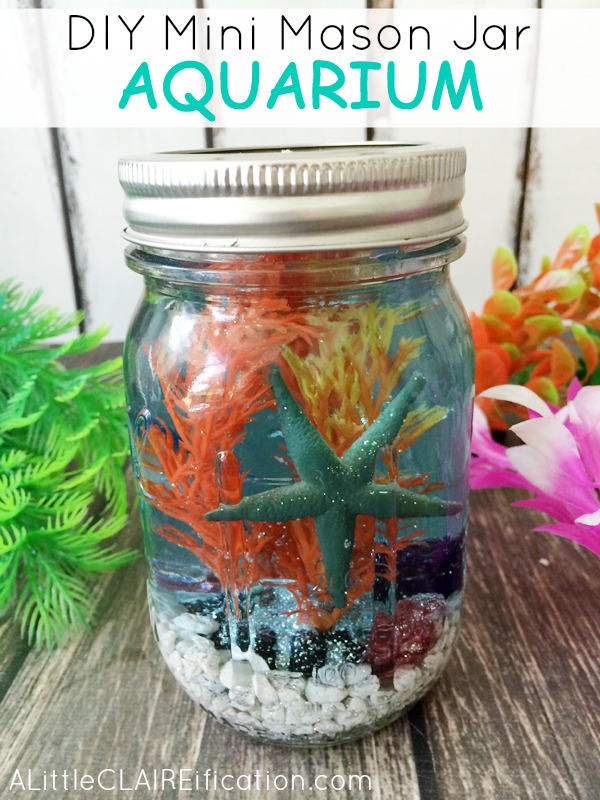 Tutorial: alittleclaireification.com
Make yourself a mini aquarium or a beach-themed vignette using mason jars. Add a few toy corals, colorful pebbles, or even a fake floating fish in there. These look amazing when displayed in your cabinet or on top of the fireplace. You can get your kids to make their own and put them in their bedrooms too.
15. Small DIY Trellis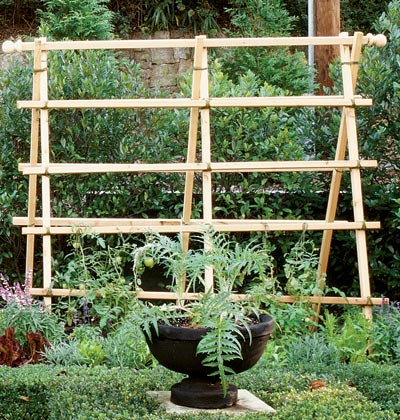 Tutorial: athomeinthenorthwestblog.com
Many people get down and dirty with gardening during summer. If you have climbers in your garden, you'll need an appropriate trellis for them to climb up. And it doesn't have to be boring and provide only basic function, with this DIY, it can be fun too!